Construction of the First Passive House in West China (Xingfubao)
Together with our Chinese partners (Construction Committee of the City of Urumqi and Dacheng Industries Inc, a private investor), we visited many extra-low energy buildings in Germany and jointly decided to build the first passive house in West China with just 13% of the heat demand required for new buildings in Urumqi. The 7,979 m2 mixed-use building called Xingfubao (engl: happiness castle) will include an underground garage, supermarket, restaurants, shops, office and residential areas. It will be insulated with 30 cm EPS/XPS, will have windows with a u-value of 0.8 W/(m2*K) and an highly efficient heat recovery system. Solar collectors on the roof will provide warm water during summer; natural gas will be used for heating and warm water during winter.
IFEU prepared the initial passive house design together with Culturebridge Architects and the Darmstadt-based Passive House Institute; detailed design is being developed by the Xinjiang Architectural Design Institute. Groundbreaking was on 03 May 2012, completion is expected by 2014. Construction costs are estimated to be around 34 million RMB (4.2 million €), the City of Urumqi is providing cash funding of 2.5 million RMB (300.000 €).
We demonstrate the ultra-low energy building projects that a market for energy efficient buildings could be created and that the current legal standards for new and the retrofit of existing buildings can be tightened. The City of Urumqi is in the process to establish stricter standards for new buildings as of 2014. Increasing demand for buildings with passive house standard from the close-by Xinjiang cities of Karamay and Changji point up the large interest in high-end building solutions in China.
---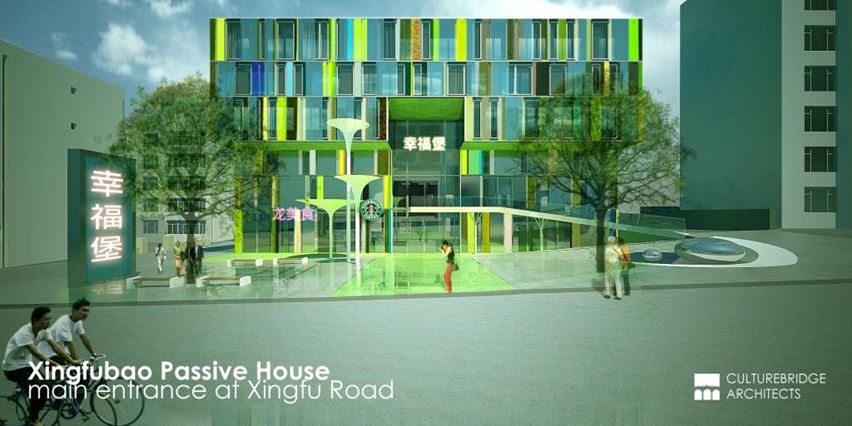 Front view of the Xingfubao passive house (Source: Culturebridge Architects)
Download 2-page factsheet on the Xingfubao projekt
Download 2-page factsheet on capacity building
Download booklet for the Xingfubao projekt
Download Passive House Institute calculations (english version)
Download Passive House Institute calculations (chinese version)